ABOUT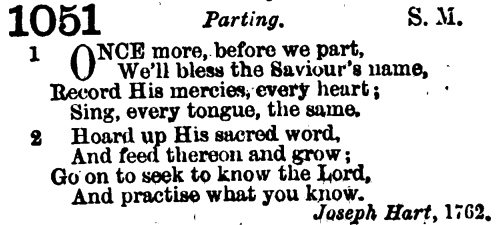 The additional verses and music were written in the wake of the 2020 Covid pandemic shutdowns to express the goodness of in-person Christian gatherings. To highlight the beauty of gathered singing, this song is written with a very active 4-part harmony that utilizes lots of harmonic suspensions, passing tones, and resolutions. Just as gathered worship is adorned by many voices, the beauty of this hymn can only be realized in gathered worship. It is best sung a cappella or with light accompaniment.
The hymn serves as a prayer for the church as we depart into the world to apply what was taught in God's Word, to fulfill the "one another" commands, for the success of the gospel through our personal witness, and for Christ to be with us as we go (Matt 28:20), while expressing our eagerness to gather again.
LYRICS
VERSE 1
Once more, before we part
We'll bless our Savior's name
Record His mercies every heart,
Sing every tongue His praise,
We'll treasure up His Word,
To feed on and to grow,
Go on to seek to know the Lord
And practice what we know.
CHORUS
Lord Jesus, go now with us.
As your Church departs, Lord be near.
By your Spirit, Father carry us
As we scatter, till we gather again.
VERSE 2
Once more, before we leave
We covenant anew
To shoulder one another's needs,
To love and walk with You.
Lord, by Your Spirit's power
Direct our fumbling feet,
Uphold us till that precious hour
We gather here to meet.
VERSE 3
Once more, before we go
We pause and seek the Lord –
Lord, put Your gospel on our lips.
As we walk through these doors.
May all who hear that word
Be drawn to love the Truth.
And join to gather with Your Church
And find new life in You.
Verse 1, by Joseph Hart, 1762 (altered).
Additional lyrics and Music by Gary Brumley.
© 2021 New Moniker Music. CCLI Song Number: 5461055
SHEET MUSIC
PERMISSIONS
All resources are provided with permission to use freely in your church, ministry, or home. CCLI license holders, please report any usage during reporting periods. If you would like to record or publish any of these materials please make that request through the contact page.